Chumphon province is located in the most upper part of the southern region. It is known as the gateway to the southern border towns. The province is divided into 8 districts. Chumphon has been able to maintain plenty of natural resources for tourism which have been untouched by the tourists and unspoiled by the time. Chumphon is an elongated province with 220 Kilometers of the coastline offering many fine-sanded beaches and attractive off shore islands, with plenty of opportunities for sunbathing, swimming, yachting, paragliding, diving and snorkeling.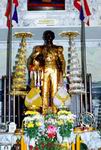 1. Tourist Attraction in Muang District
San of Sadej Nai Kromluang Chumphon Khet Udomsak

This place is in village No. 7, Had Sai Ree sub-district. It is 20 Kilometers far away from Chumphon city centre along highway. This is a sacred place of the people in Chumphon and nearly provinces.

At this place stands the Monument of Admiral Phraboromawong Thir Kromluang Chumphon Khet Udomsak. It consists of San of Sadej Nai Kromluang Chumphon Khet Udomsak is at the north of Sai Ree beach. The shrine faces the sea. There is a museum which shows about his biography and things which he used. A large torpedo-ship name the Royal Chumphon is also here. It is 68 metres long and 6.55 metres wide. This ship was decommissioned on November 26, 1975. The Royal Thai Navy gave the ship to Chumphon province in 1979. After that it was put near this monument.

Sai Ree Beach

About 20 Kilometers from the town centre along highway 4119 and 4098, this long expensive beach is shaded by majestic pine trees and affords some spectacular views of nearby islands.

With its quaint Somtam (papaya salad) stall and out door seafood restaurants, Sai Ree Beach offers peace and relaxation away from the madding crowd. For historical buff, a monument commemorating the late Admiral Prince of Chumphon is located nearby, complete with a well-preserved WW II warship. A hillside temple at the site offers a panoramic view of entire area.

Khao Chao Muang

About 1.4 Kilometers from Sai Ree beach is Khao Chao Muang, the district's highest observation point. Panoramic views of the coast and far out into the distant archipelago are rivaled only by the peace and tranquility offered by the secluded beach located at the base of the mountain.

Thung Makham Bay

This place is divided into outer Thung Makham Bay and inner Makham Bay. The bay looks like a line of 2 semicircles. Roughly in the middle, lies a peninsula made up of big and small rocks scattered surround in a mysterious fashion. This peninsula serves as the bays divider. On the north side lies the inner Thung MaKham Bay whose with sand and beach stretches along with a line of coconut trees about 1 Kilometers.

Samet Island

This island is a village No. 1, Pak Nam Sub-district, far away from Chumphon city about 8 Kilometers. First, take a bus along road No. 4119 (Chumphon-Pak Nam) about 17 Kilometers from this place, then take the boat for 30 minutes away from shore to get there. There is the beach at the top, and at the middle of this island. It is the Chumphon largest island. This island is crowned with lots of coconut trees which make it look beautiful and calm.

The National Museum of Chumphon

Any trip to Chumphon should start at the national museum established in 1994 at Khoa Samkaew. The museum provides with an overview of province, ranging from prehistory through the present. Even for those who are not overly interested in history, the museum's attractive displays and media resources will fascinate and inform. The museum is divided into eight areas of interest.

Khao Parng National Park

About 12 Kilometers south of the town, bordering Chumphon and Tha Sae District, Khao Parng National Park is one of the province's newest attractions. Within the national park, there are a great variety of tropical trees, making the park a shady and restful sojourn for nature lovers and a must to see for students of forestry. A hill, covering an area of about one square Kilometer, is located toward the back of the park and provides a commanding view of the entire area.

Chao Fah Sala Loi Temple

This temple is about 8 Kilometers away from the municipal area. To get there, you will travel along an asphalt road for 6 Kilometers and continue your journey along a laterite road for another 2 Kilometers. At this temple lived Luang Pu Song Chanthasaro, a famous religious teach who passed away at the age of nearly 100 years and his body still remains undecayed.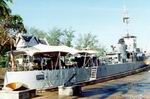 2. Tourist Attraction in Lang Suan District
Somdej Phra Srinakarin Chumphon Park

This park is in village No. 7. Tha Phra sub-district. It is about 7 Kilometers from Lan Suan District. The park is accessible by car. It is an important park of Lang Suan District and a good place for relaxation.

Khao Ngoen Cave

This cave is in the same area as the park Somdej Phra Chulachomklao Chaoyuhua (King Rama V). King Rama V graciously had a pagoda built in front of the cave when his first visit of Lan Suan in 1889. The cave's interior looks like a big hall or a tent. There is a chimney going through the top. The cave's wall is also inscribed with King Rama V's initial Jor. Por. Ror.

Khao Kriab Cave

This is a famous cave. It is an accessible by car. It is about 80 Kilometers away from the city centre along Chumphon-Lang Suan Route or 10 Kilometers away from Lang Suan District. There are many stalagmites inside. This s a monk residence at the foot of the hill from which the 370 steps leading to the cave begin.

Phithak Island

This island is in Bang Nam Jued sub-district. It is one Kilometers away from the shore. The island has beautiful rocks and many fishing villages. When the tide is low, you can walk from the shore to the island.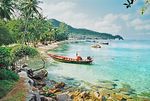 3. Tourist Attraction in Thung Tako District
Thub Chang Waterfall

This is a beautiful waterfall in Khlong Phrao National Park, village No. 5, Tako sub-district, Thung Tako District. It is surrounded with many trees, and many animals live here. To get there, you travel along highway 41 until you come to a police booth at Sammai, Lang Suan District. Then turn right into a laterite road and go on for another 15 Kilometers. The waterfall is about 65 Kilometers away from the city centre.

Arunothai Beach

Arunothai Beach on the Tako river estuary is a scenic area. There is also a memorial to Prince Chumphon erected here. From Arunothai beach, boats can be hired to visit many off-shore islands.

The fishing village at Ban Ao Manuang is located about 14 Kilometers, further on. A fascinating place, with a quiet and relaxing air, it affords a vision of typical fishing community. The lines of coconut trees forming the backdrop adds colour and live to the scene.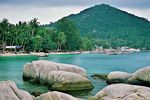 4. Tourist Attraction in Tha Sae District
Rub Ror Cave (Wat Theep Chareon)

Located in Tambon Tha Kharm about 15 Kilometers from the Pathomphon intersection. This hilltop temple cave actually consists of two adjacent caves, Ai Tay and Pra, which are both, according to the legend, purported to contain hidden treasure. The Ai Tay Cave houses an old Buddha image known affectionately as Luang Poh Poo Lak Muang, or the town god's revered grandfather. The caves are further adorned with stunning stalagmites and stalactites.

Hin Chagn Spirit House

Hin Chang Spirit House is located between Kilometer 453 and 454 on the Phet Kasem Highway in Tambon Salui. It is a spirit house with the image of a revered god.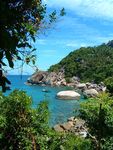 5. Tourist Attraction in Sawee District
Wat Tha Kwan Muang

It is located about 2 Kilometers from the District office of Sawee or about 48 Kilometers from the provincial town of Chumphon along the Highway 41. There is a fascinating temple perched on top of a limestone hill. Besides possessing a commanding view amid tranquil surrounding, the temple's house revered Buddhist relics.

Phra Thart Sawee Temple

This temple is near Sawee River. It is 47 Kilometers away from the city centre along Highway No. 41, around Chumphon-Lang Suan part. According to the legend, Phar Chao Sri Thamma Sokaraj and his army took a rest in Sawee District and found a strange occurrence, that is, albino crows and other types of crows flocked together and cried above the debris from a ruined structured. His Majesty therefore issued an order to remove the debris. After removing the debris, they found a large pagoda. When they dug the ground deeper, they also found a jar containing the Buddha's relics. So, His Majesty had his men built a new pagoda over the old one. The construction could have taken place in Ayuthaya Era. In 1916, a repair was done. A new structure was made over the old one, at the front of the temple next to Sawee River, and stands a shrine where a human-size effigy is kept. People in Sawee District call this shrine "Sarn Phra Sua Muang"

Sai Ree Sawee Beach

It is the most beautiful in the district. It's is in village 8, Tha Hin sub-district. It is a large sand beach parallel to a long line of many coconut trees. This beach is good for relaxation. Tourists can get there easily by car. Travel along Highway 41, Chumphon-Sawee Route. Turn left into an asphalt road, Sawee-Bor Kha Route and go on for about 6 Kilometers. The, turn left into a laterite road, and go on for 6 more Kilometers.

Thip Preeda Cave

This area is a rocky mountain with a stream flowing past the front. This mountain has about 40 beautiful caves, some of which contain pools. These caves are in village 2, Khao Khai sub-district, Sawee District. Tourist can easily get there through Chumphon-Sawee Route up to Khao Beep intersection, Thung Tako District. Then, go along Khao Beep-Khao Thalu Route for about 16 Kilometers and turn left into a laterite road and travel for 4 Kilometers more until you arrive at Huay Kaew Intersection. Then, turn left into a village road and travel for 6 Kilometers more, you will be at Thip Preeda Cave. The total distance from the city centre is 70 Kilometers.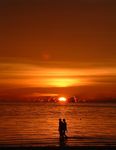 6. Tourist Attraction in Pathiew District
Kho Khai

A small, mountainous island, Kho Khai lays claim to only one attractive beach. The island's beauty, however, lies below the surface of its crystal clear surrounding water. The island is encircled by colourful coral reefs teeming with fish and other sea life.

Yai El Bay

A 25-metre-viewpoint located just before the bay welcomes visitors with a panoramic view of the coast. The sheltered waters of the bay host a great variety of coral.

Thung Wua Laen Beach

It is located in Pathiew District in Tambon Saplee, some 16 Kilometers from the town's centre. Thung Wu Laen is perhaps Chumphon's most popular beach. Both novice swimmers and experts will enjoy this beach as the fine white sands slope gently into the sea. At the southern end of the beach, at the foot of Phobaeh Mountains lies on of Chumphon's premium dive site. Sea fans, marine flowers, sponges and a tremendous variety of reef fish make the scenery below the surface of the water every bit as spectacular as the beach itself.

Chorakhe Island

Although Chorakhe means crocodile in Thai, visitors to this charming respite some 11 Kilometers of shore from Thung Wua Laen by need not worry as the island gets its namesake from its shape, not its inhabitants. It takes about 30 minutes to reach the island by boat, but visitors will be rewarded for their efforts with peace and quiet two-small-beaches to choose from and excellent snorkeling and scuba diving conditions. Off-Shore fishing is also reported to be good.

Koh Ngarm Yai and Koh Ngarm Noi

This air of adjacent islands located 17 Kilometers from Thung Wua Laen Bay, and it is known among locals for the swallow nests which are harvested there for export. Visitors, on the other hands, are drawn to the islands because of their fascinating rock formations, underwater caves and spectacular coral reefs.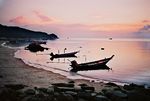 7. Tourist Attraction in Phatoh District
Hew Loem Waterfall

It is located in Tambon Pak Song, about 16 Kilometers from the District office of Phatoh along the Lang Suan-Rajakrud Highway (Highway 4006). These scenic falls are a perfect fresh water adjunct to Chumphon's beaches and island. From the bottom of the falls, the two-hour-rafting-tours down the scenic Bok Rai River can be arranged between November and April. For additional information, please contact the Phatoh District Office at +6677-539-040. To each the waterfalls, turn left off Highway 4006 at Km. 11, and continue for another 8 Kilometers until reaching the fall's entrance.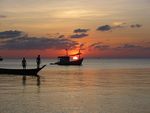 8. Tourist Attraction in Lamae District
Thum Khao Hot Spa

This place is one of the most popular tourist spots in Lamae District. It is in village No. 2, Suan Taeng sub-district, 7 Kilometers away from the district centre along Highway 41. There are 3 hot spas here. In the vicinity, there are also 4 caves with beautiful stalactites and stalagmites.

Tawan Chai Beach

This is a large beach. It is the most beautiful beach in this district suitable for relaxation. This beach is in village No. 3, Lamae sub-district. Tourists can get there by car, from Phetkasem Road around Thung Sawan Intersection via Lamae District, then turn right into a laterite road and go on for 5 more Kilometers.